LAST TIME ON TWO STEPS BACK:

Therese and Eldin are trapped in a virtual nightmare, and after dying a total of eight times they seem to have determined that dying is NOT the way forward. Now they're stuck in an endless loop that makes no narrative sense, and it's our job to get them out of it.

I'm sure the gene pool will thank us for our efforts.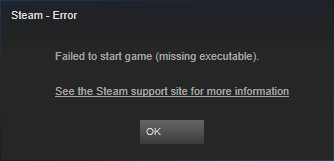 By the way, the Steam link still doesn't work. I wrote the last update on Friday evening, and it is now Sunday evening. There are no reviews on Steam, and only four topics on the community forum. I may be one of the few people foolish enough to purchase this game.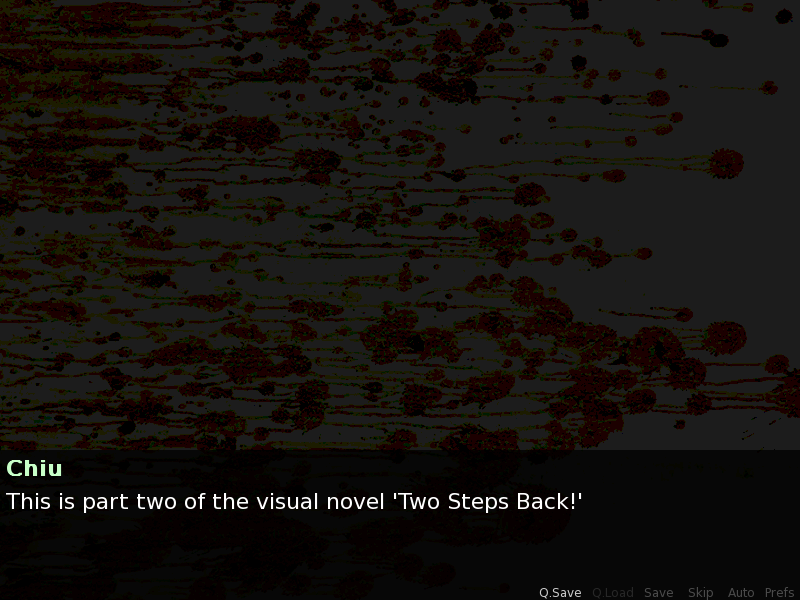 Chiu, from what I'm aware, is the online handle of developer Kirsten Cheely. She yells at you a bit to make sure you've definitely played Part 1 first.

Much to my regret, I have.




...Wait. So to play part 2, I need to have already completed part 2.

Did anyone proofread this script? At all?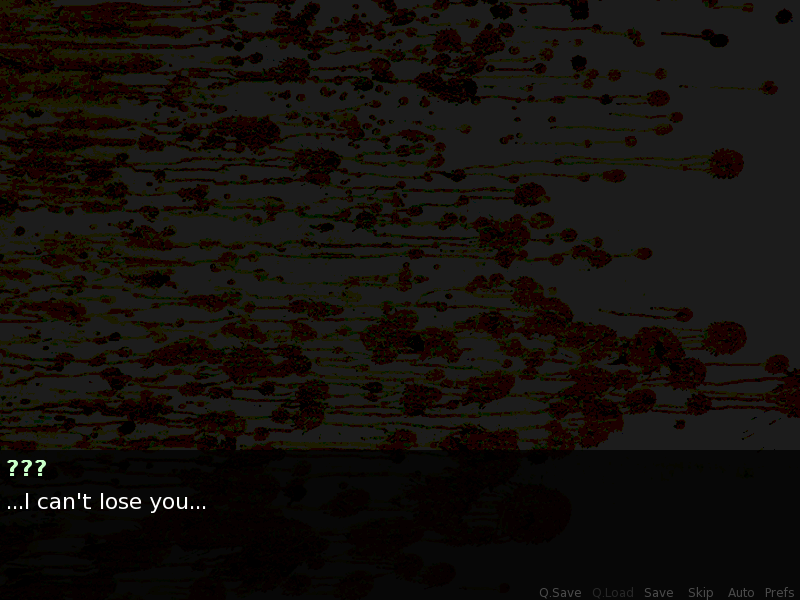 Therese reacted poorly to her first playthrough of You Have To Burn The Rope.

"Not now...not ever..."




Oh, look. Therese is Eldin's sister. What a horrifying plot twist.

One that, like everything else in this game, makes no fucking sense.




So Therese was able to remember most of her life prior to the dream sequence. That's been established. Why, then, would she forget that Eldin was her brother? And how did Eldin conveniently forget the exact same thing? And WHAT UNHOLY COINCIDENCE allowed these two siblings of different ages to be born on the exact same day?




Whatever. I'm rambling. We cut back to Therese muttering uselessly to herself as usual.




So for some reason she's lost her memories of the dream AGAIN, and has another awkward stumbling around to get her bearings. Perhaps this is the first loop that we saw in the opening, and this is where we'll finally get some answers?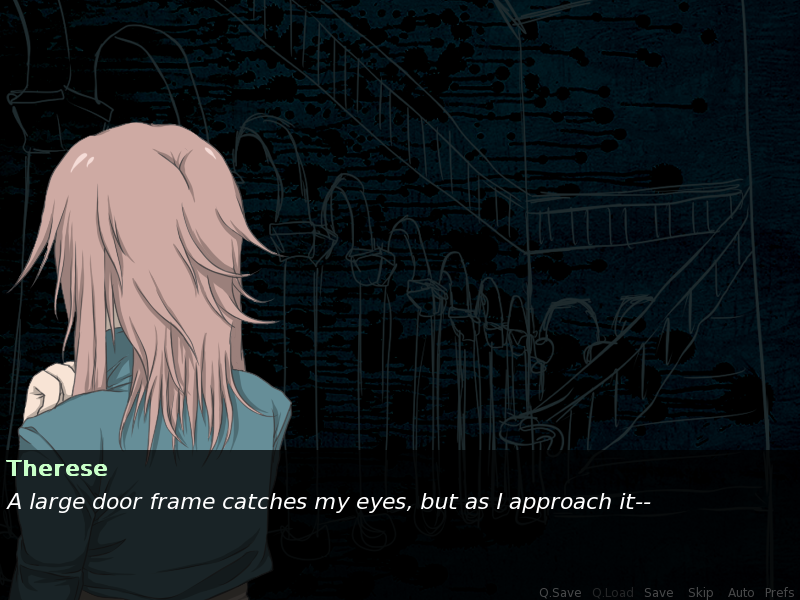 Oh. THERE is a door. We've finally solved the mystery.

"-there's a small child suddenly pulling on my arm from behind."




Sure enough, Eldin doesn't recognise Therese this time around.


...Heh. Didn't realise I wasn't alone here.


Ah-well I thought so too but then I saw you walking around so I...




Clearly since all the periods got used up on ellipses, we're not allowed to have anything other than run-on sentences.


N-no! Wouldn't it be better if we stick together...Miss...?


You've got some backwards logic if you think it's better to follow a complete stranger kid.


A-ah you're right...that was rude of me. My name is Eldin, pleased to meet you!




I really don't get why Therese is being such a jerk. She's lost and in unfamiliar territory with no recollection of how she got here. Why is she trying to scare off the one source of help she can find?


I don't need some snivelling crybaby who's afraid of his own shadow slowing me d--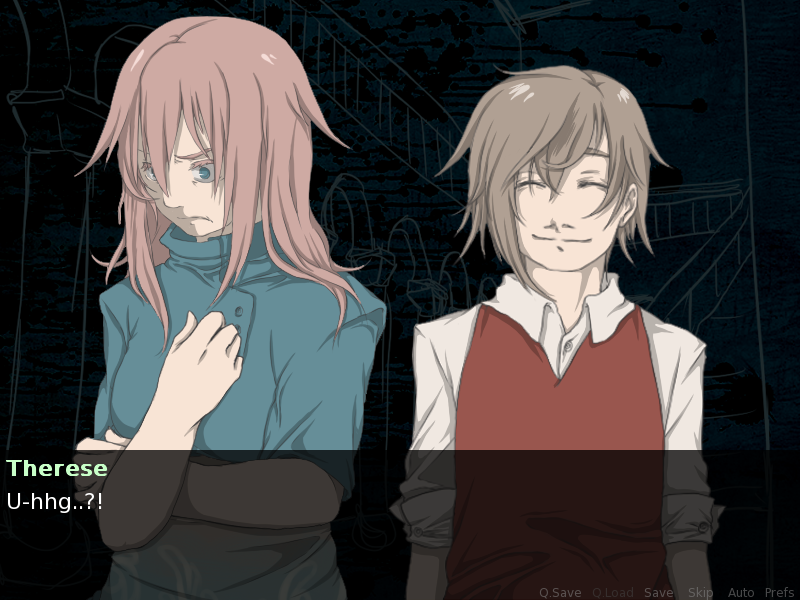 Karma proceeds to stab Therese in the chest for being an asshole.




No, seriously. That is actually what is going on.

How in the hell does Therese come to this conclusion based on exactly ONE incident? Where I'm from, we call that 'sheer coincidence'.




I feel like this is a line I'd see more often if I was reading through 8th grade creative writing. Probably accompanied with a heavy serving of vodka.


M-miss? Are you alright?




These are definitely the sounds a person who is totally fine makes.




I can think of no good reason that the second set of ellipses should ever have to exist. At all.


A-are you sure? You looked like you were in a lot of pain...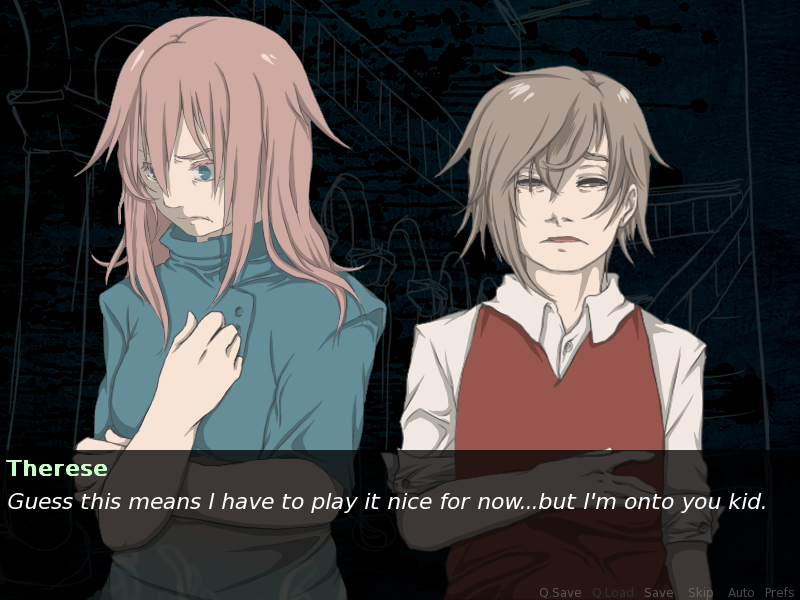 OK. Therese. Hold the goddamn phone.

So you just immediately come to the assumption that Eldin is somehow a fucking psychic who will strike you with his GUILT BEAM if you try to say anything remotely offensive? Again, based on ONE INSTANCE where you happened to feel pain in tandem with being an asshole? And in spite of Eldin genuinely doing everything he can to show concern for your safety?

I don't know what's worse, your paranoia or your braindead idiocy.


Why? All we need to do is go up, right?


...What are you talking about?


The test of course! We need to get to the top-




Keep in mind that Eldin somehow DOESN'T know all of this later.


Ah d-do you perhaps not remember Miss Therese?


R...remember?


Nothing at all? Well that was part of the test so...


Test?




That is not what 'initiated' means. Just saying.


For what? How did we get here? Why?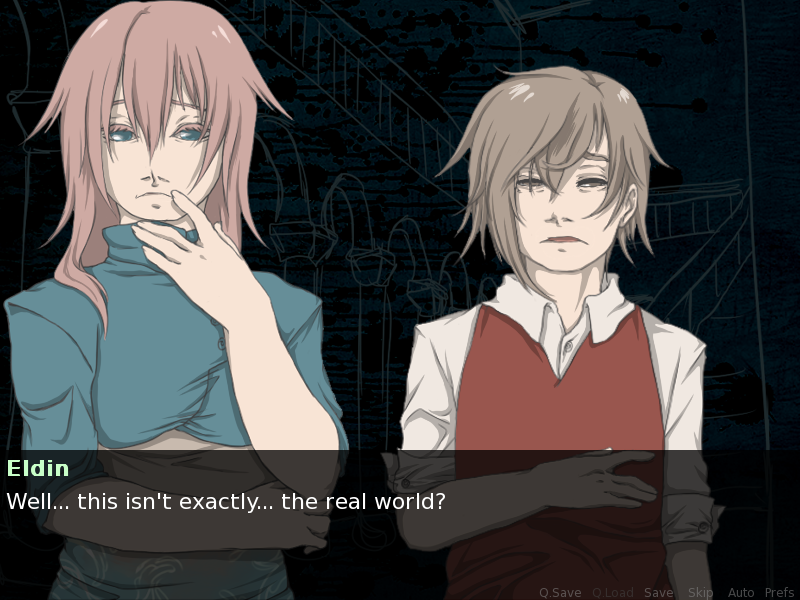 ...Excuse me?


You and I are...currently asleep?


...




An apt summary of how this game makes me feel right now.




Maybe Eldin has really bad asthma and has to catch his breath between sentences?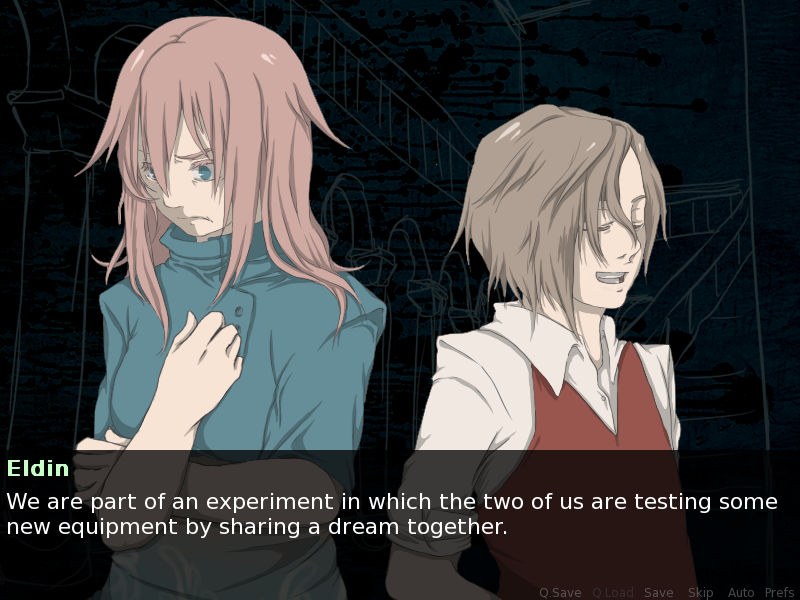 For once, Therese asks a reasonable question: Why are they doing this? And why does Eldin remember all the facts when she doesn't?


Well...honestly...




OK, once again, wait one goddamn minute.

So in part 1 we learn there's some sort of anomaly attached to Therese and nothing out of the ordinary with Eldin. Now we learn that he somehow managed to SNEAK HIS WAY INTO THE EXPERIMENT and the computer thinks there's nothing wrong with him?

I feel like this game can't make a single plot point without somehow tripping over its own feet.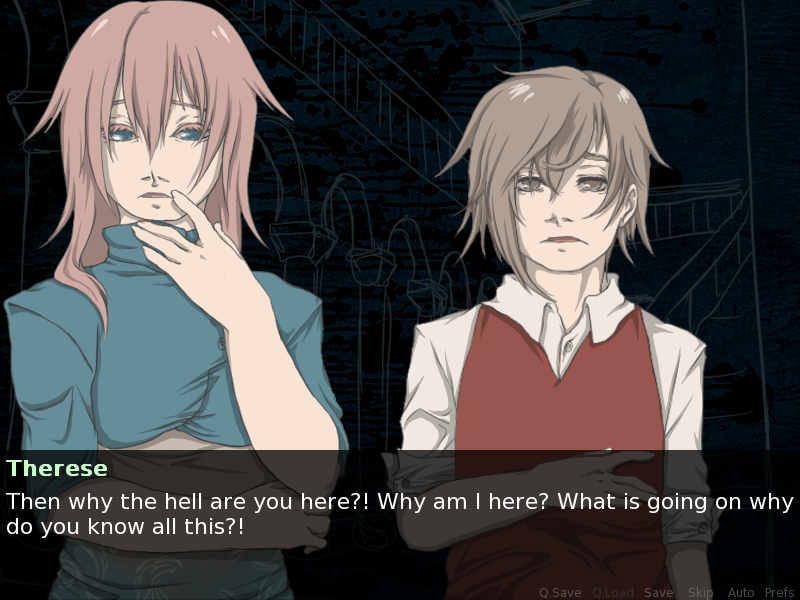 Therese is so angry that she somehow manages to fuse two sentences into one.


I-I don't...!




Oh. So that opening dialogue wasn't from Therese after all. Or maybe it was, given that the game is still obviously trying to skirt around the identity of this mysterious older sibling in the world's most awkward attempt to conceal an obvious plot twist.




Apparently Eldin knows all about Therese, since she was meant to be the original test subject. But he wasn't even supposed to be inside the machine.

Which raises yet ANOTHER stupid question - why would you test a machine that lets TWO PEOPLE share dreams on ONE PERSON?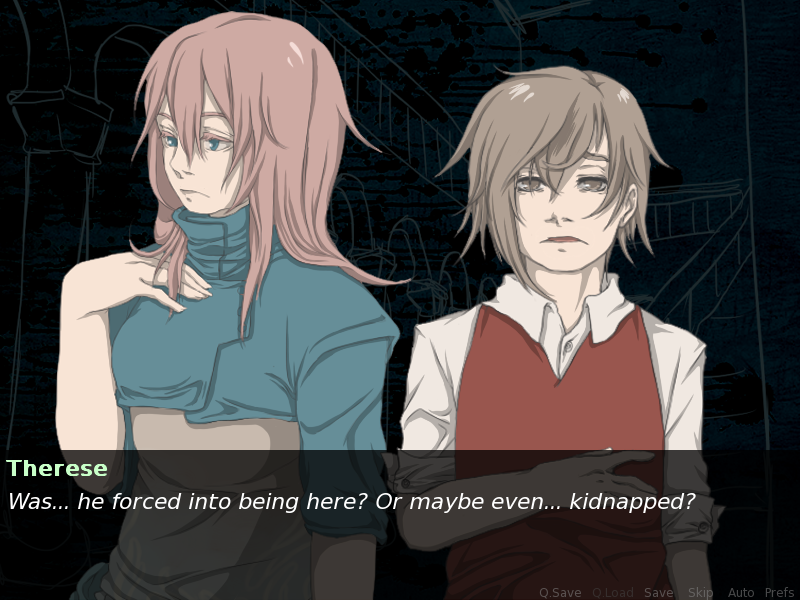 Clearly he was sent here to assassinate you with his MIND BULLETS.




'Some simple dream experiment'? Do you realise that if we had enough knowledge of the human mind to allow two people to share a single dream, it would be a massive scientific revolution?

Of course not. Otherwise you wouldn't have written this sentence with a straight face.


Pretty much, yes.


So then it must be in some kind of controlled enviroment (sic) yes?




Oh my. Therese happens to work at the same hospital as the mysterious sibling who runs the experiments. I wonder if this is important. :|


If you're not a part of the experiment then...why are you at a hospital?


Ah...I'm not staff or anything of course...I'm...




What makes this line hilarious is that Therese's animation makes it look like she's genuinely fallen asleep out of boredom.




She is promptly woken up by a second heart attack.

"It hurts...so much...it's suffocating me...What...is going on?"


M-Miss Therese?! Are you alright?




YOU HAVE NO REASON TO HIDE THE FACT YOU'RE IN SERIOUS PAIN, THERESE. ABSOLUTELY NONE.


What's the goal? ...How do we...complete it?




Well, we failed that part pretty spectacularly.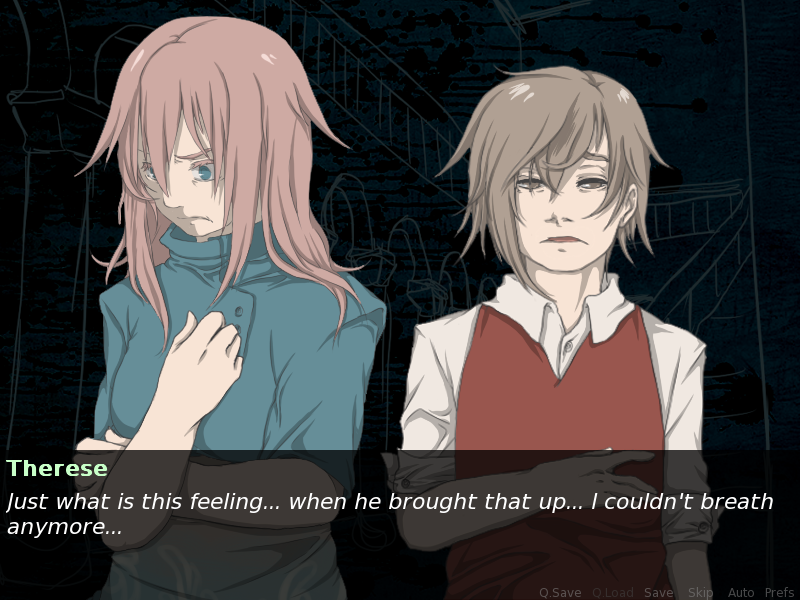 BREATHE. You couldn't BREATHE. Breath is a noun, breathe is a verb. This is not complicated.




I still don't understand why she has decided Eldin's responsible for her heart attacks. But, y'know, :plot:!




Remember, he somehow manages to forget this after his first death. This, and ONLY this.


Well that sounds simple enough. But where do we find the code?




...Wait. So then...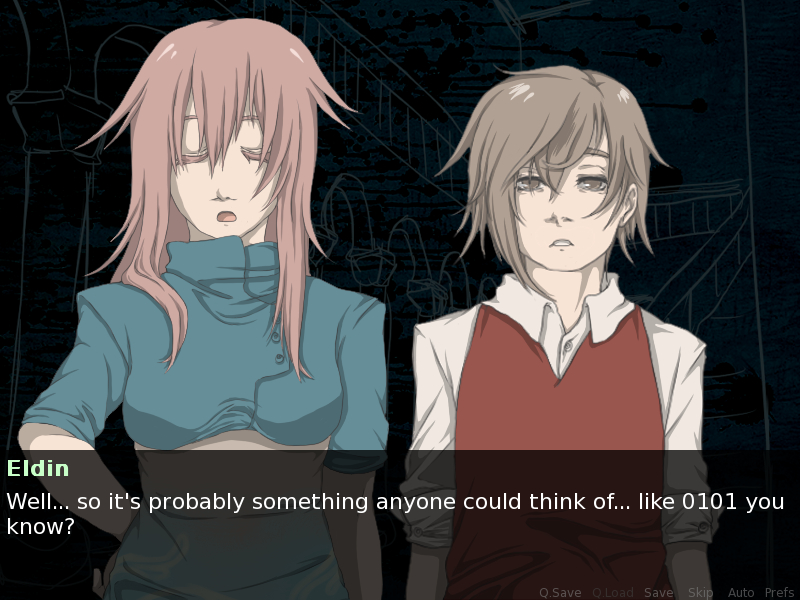 ...I'm stunned.

I'm fucking flabberghasted.

Let me take a moment to break down exactly what is happening here. First, we have 0101 being 'a random password anyone could think of'. Instead of, say, 1234 like most people would think of. I can maybe write this off as some level of Eldin's subconscious lingering, but whatever.

But if the code was just some silly thing anyone could think of, that meant it had nothing to do with their birthdays at all. So the two characters both being born on New Year's Day was an absolute coincidence, and the fact that the passcode JUST HAPPENED TO BE 0101 was also a complete coincidence.

Here's the math. There are 365 days in a year, and 10000 possible four digit combinations from 0000 to 9999. The odds of them sharing a birthday, and that birthday ALSO being the code for the elevator are 1 in 3,650,000.

Every time I think this game can't get any dumber, it manages to reach a new low.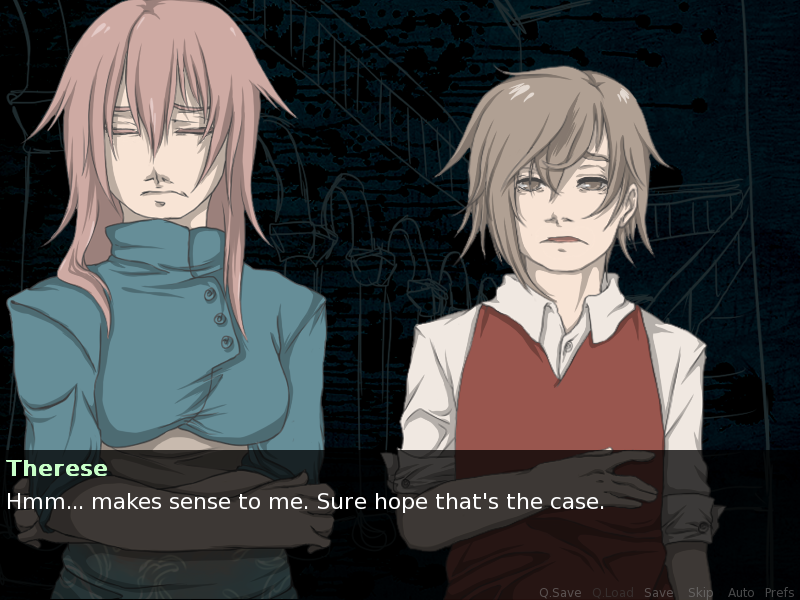 I feel like this game is set in some sort of bizarro world where the rules of logic have been turned on their head. People keep acting like the most ridiculous concepts are perfectly natural, and it's REALLY getting on my nerves.


Let's get going, I want to give the one in charge a piece of my mind for putting me through this.


Heh heh...Even though you agreed to it in the first place?




Why does every expression on Therese's face make her look like a serial killer?


Ohh no, I'm not letting you off that easy Miss Therese~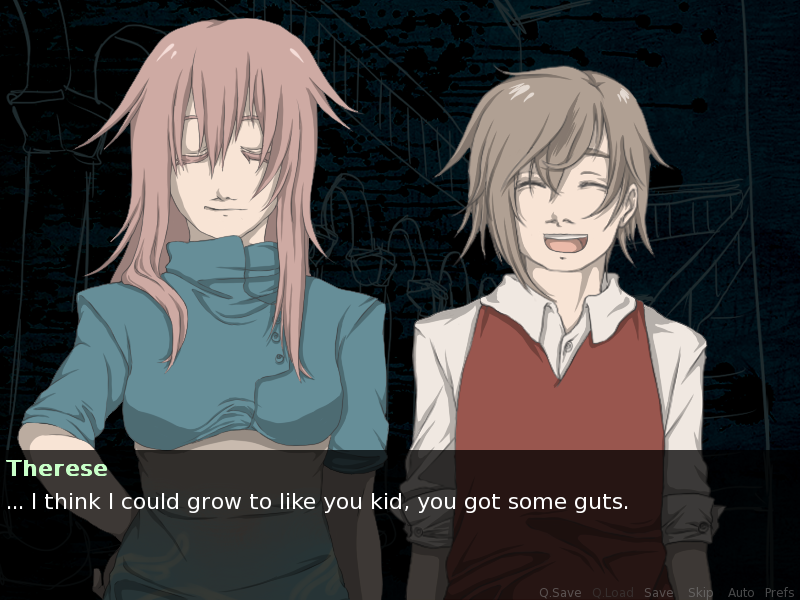 Though maybe cut it out with the whole MIND BULLETS thing.

The pair run off together in search of a way to reach the fourth floor.




Once again, Therese scolds him for thinking she'll spout her life story to someone she's just met. Eldin decides to break the ice by going first.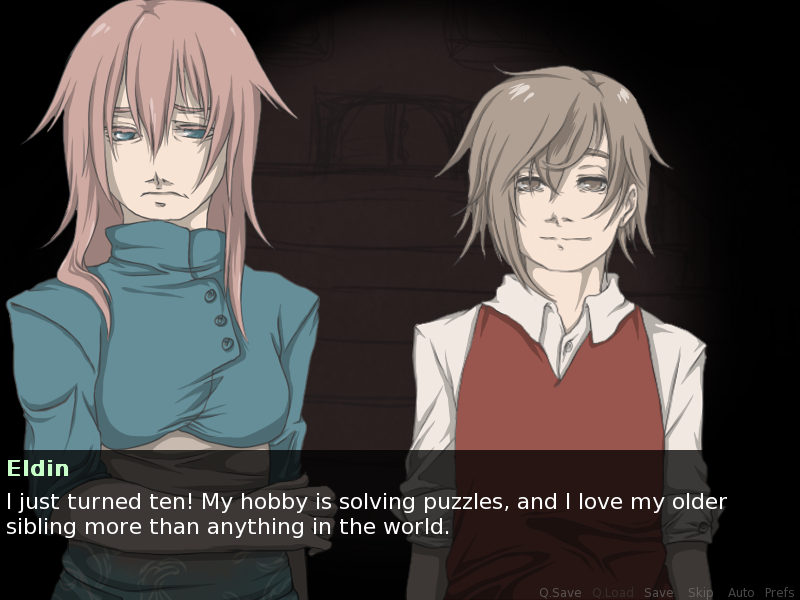 The origin story for Professor Layton took a bizarre turn.

(Also, 'older sibling'. No-one says that unless they're clumsily trying to hide the gender of said sibling.)


I also...




Thank God.




So am I supposed to assume this is some sort of subconscious guilt or fear about Eldin that Therese hasn't quite forgotten? Because that sort of makes sense, except for the part where it NEVER HAPPENED FOR THE ENTIRETY OF PART 1.


I'm not stupid, you know? The way the doctors look and speak to me...suddenly...and drastically changed recently...


W-what's wrong with you...?




Because we need to instill an awkward sense of drama that totally clashes with the rest of the story.




In medical terminology, his kokoro isn't doki doki-ing hard enough.




I am cutting considerable chunks of this discussion out, because they're simply restating stuff that's already been said. Mainly involving Therese and her TOTALLY HORRIFIC ANGST IT'S REALLY BAD YOU GUYS SERIOUSLY.


But I've enjoyed my life, honestly I'm quite lucky. If this was my last day, I think I could honestly say that--




Therese is at least sane enough to realise this isn't how she should be reacting. A kid dying young is tragic, obviously, but it shouldn't be leaving her this crippled. Why?

(maybe because he's your fucking brother you moron)




Can we just go one step further and say 'no more talking'? It would make this game a hundred times more bearable.




Therese gives some big speech about how Eldin's going to go out and live his life and give his SIBLING a big hug. Y'know, as if a heart defect is something you can overcome through sheer determination.




Because we're living in BIZARRO DREAM LAND, it works.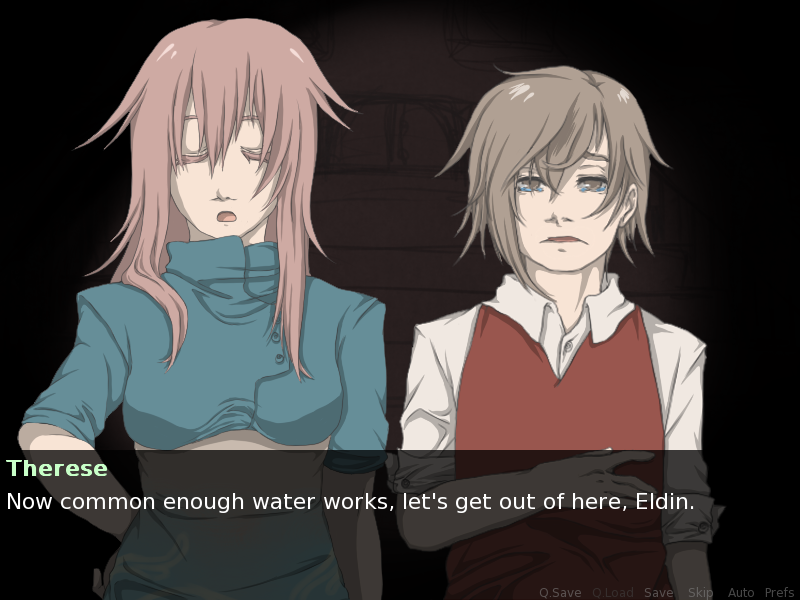 Now common? NOW COMMON?

I'd like to take a moment to reiterate this game is for sale on Steam. You are expected to pay real money for the privilege of playing this game.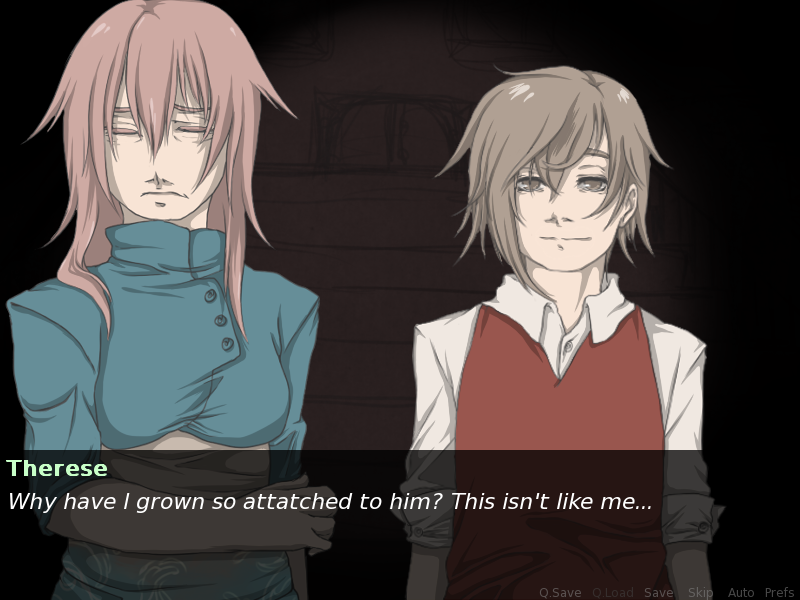 How can you even be sure what you're actually like, Therese? You've forgotten everything else about yourself.




The fact that the game has the AUDACITY to claim the hallways were detailed when THEY'RE LITERALLY FUCKING SKETCHES implies one of two things: either the creator is utterly lacking in self-awareness, or they simply do not give a shit. Possibly both.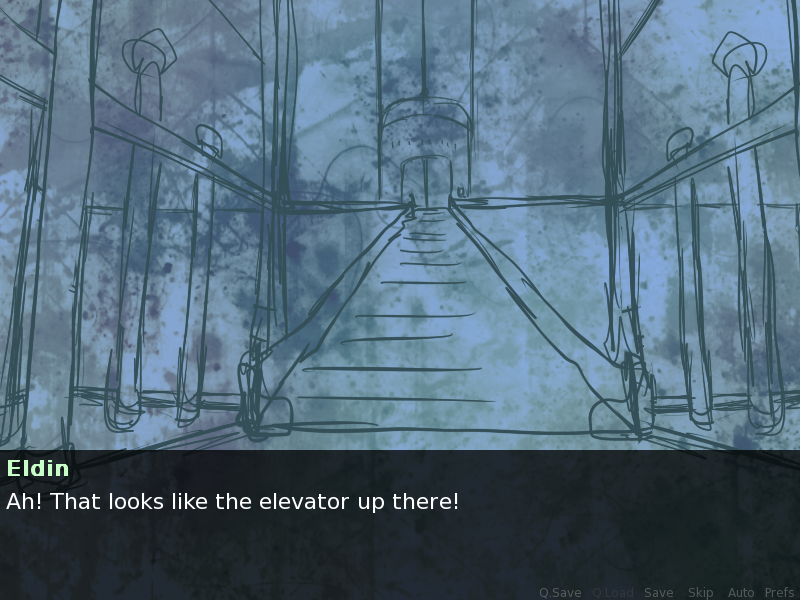 Anyway! Our heroes manage to find the elevator. Now all they have to do is enter the hilariously convenient passcode, and they'll be-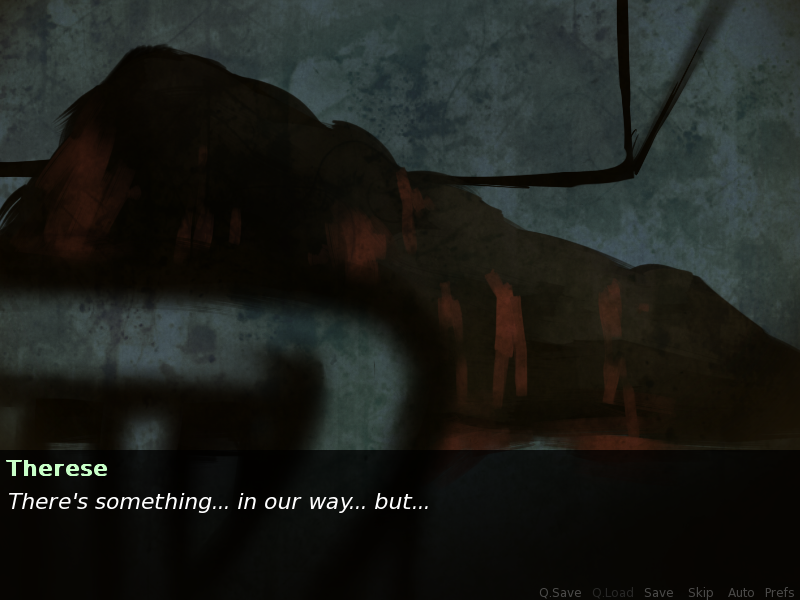 FUCKING SPIDER DEMON




This is the demon's initial form, though, so it doesn't have the broken limbs or the messed-up face yet.

Therese and Eldin try to cautiously tiptoe around the creature, but when they reach the top of the stairs-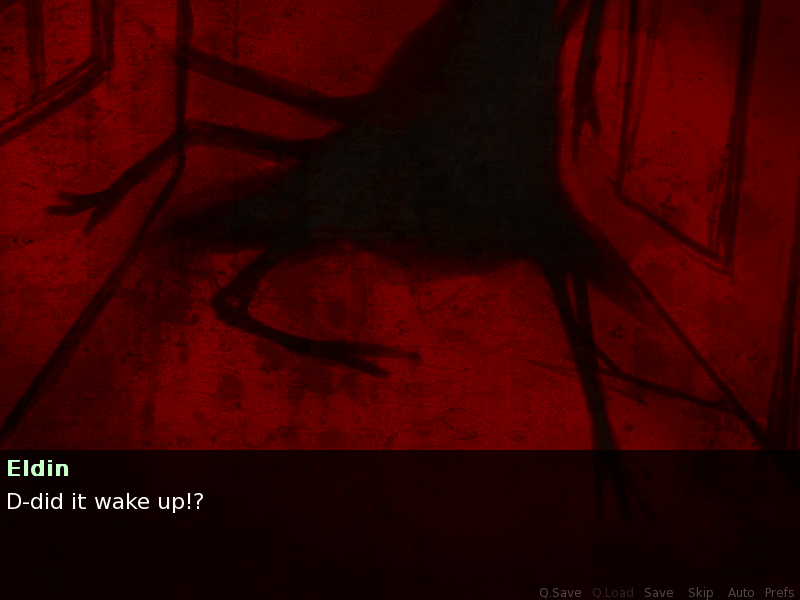 Who cares?! Just run for the elevator!

And so we're given a repeat of the scenario from before, where they both have to rush in to get to the elevator before the demon nabs them. Except this time they don't have a gun, they have to waste time putting in the code to begin with, and they aren't even sure if they have the right code.

So naturally they get caught, right?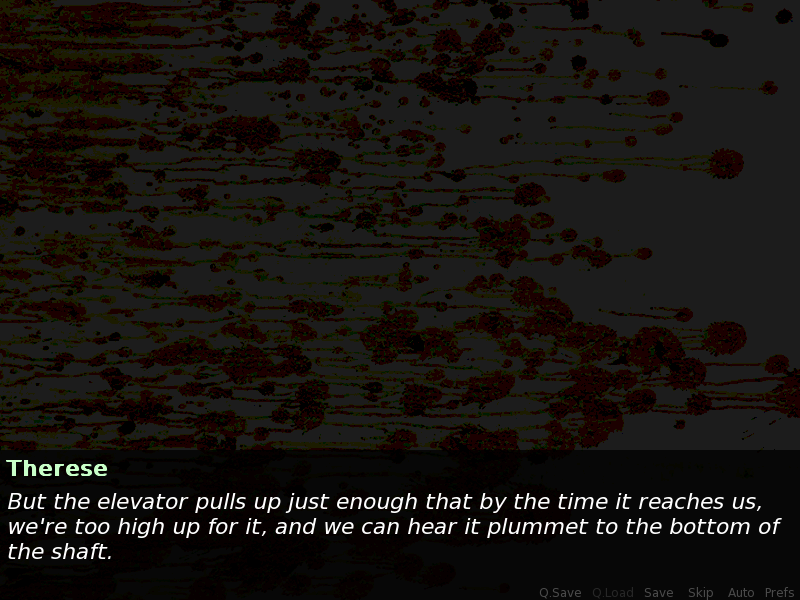 OF COURSE FUCKING NOT.

I feel like this is the only appropriate thing to post at this point.




Eldin, if you don't die shortly after waking up from the dream, I will kill you myself.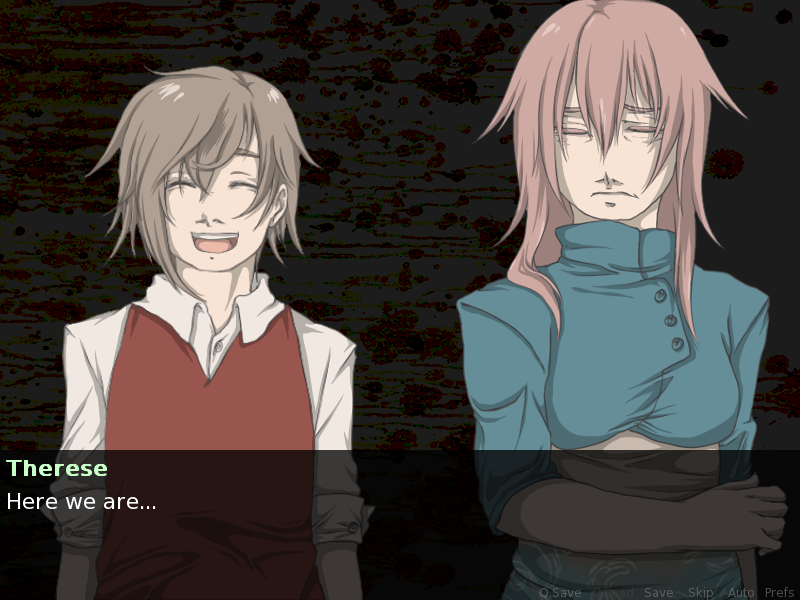 But hey, at least now we're finally going to find out what's at the top of the goddamn elevator! Let's see how the game manages to botch THIS reveal.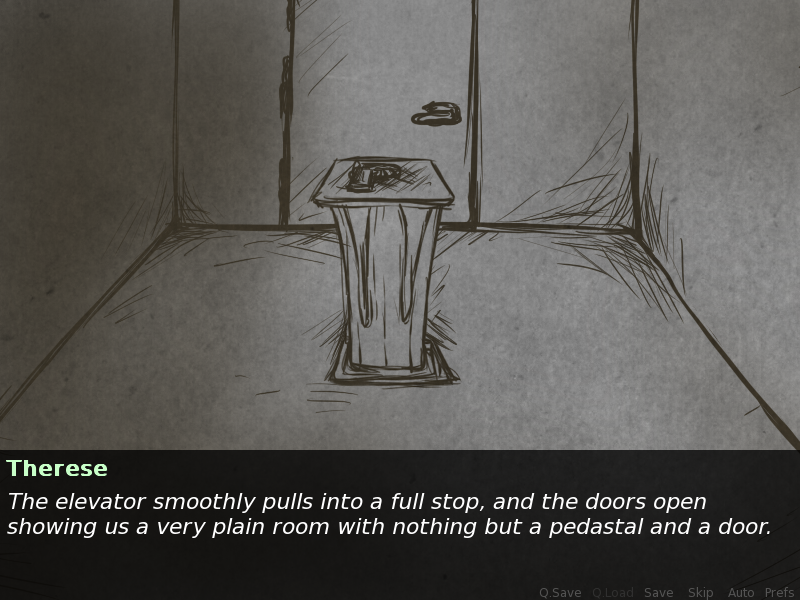 TL NOTE: PEDASTAL MEANS PEDESTAL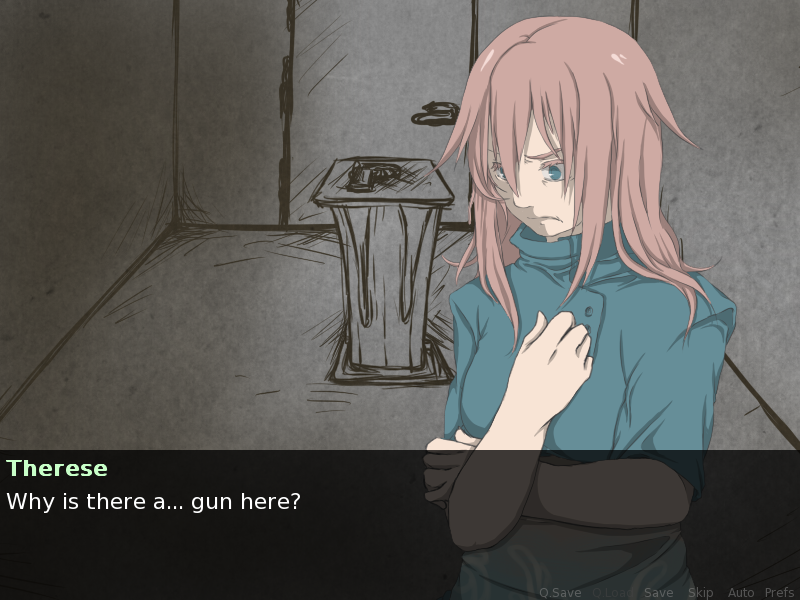 Tumblr memes.

Anyway, who gives a shit about the gun? Let's open the door and get out of-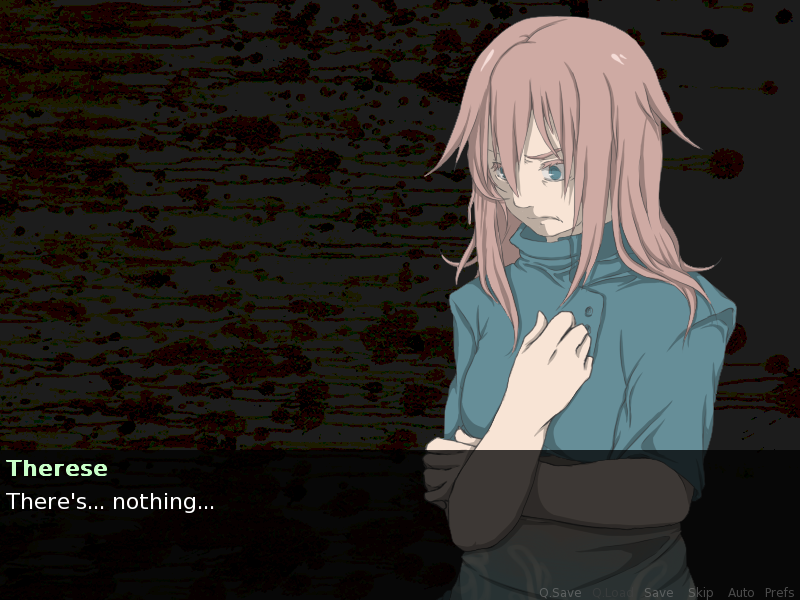 What.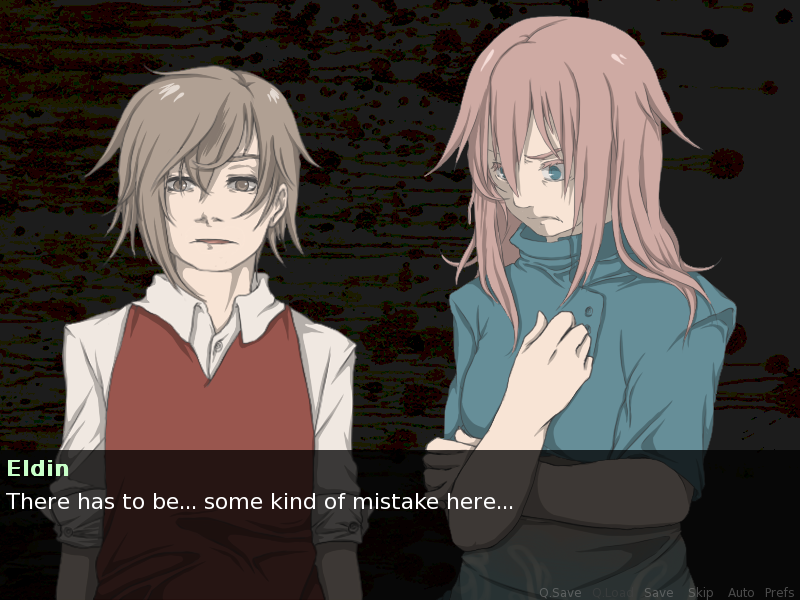 Are you telling me the exit door is actually linked to THE ENDLESS VOID OF SPACE or some shit? How did the people running this experiment not realise this? Better yet, WHY THE HELL HAVE THEY NOT STOPPED THE EXPERIMENT AT THIS POINT?

Eldin and Therese take the revelation well.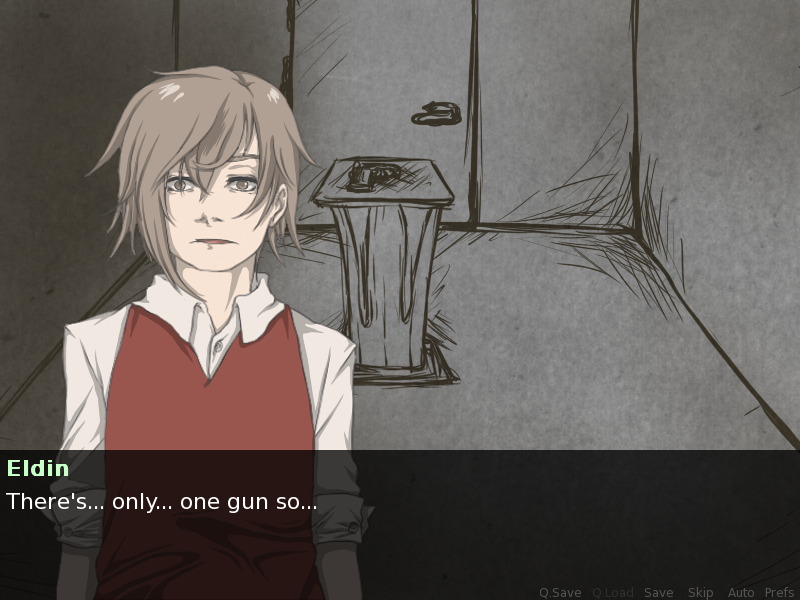 And by well, I mean very poorly.

To clarify, they figured the gun was there as a get-out clause in case something went wrong with the system. Except we know that can't be right, which begs yet another question - if the gun doesn't bring you out of the dream and it's useless against the Spider Demon, WHY THE HELL IS IT HERE?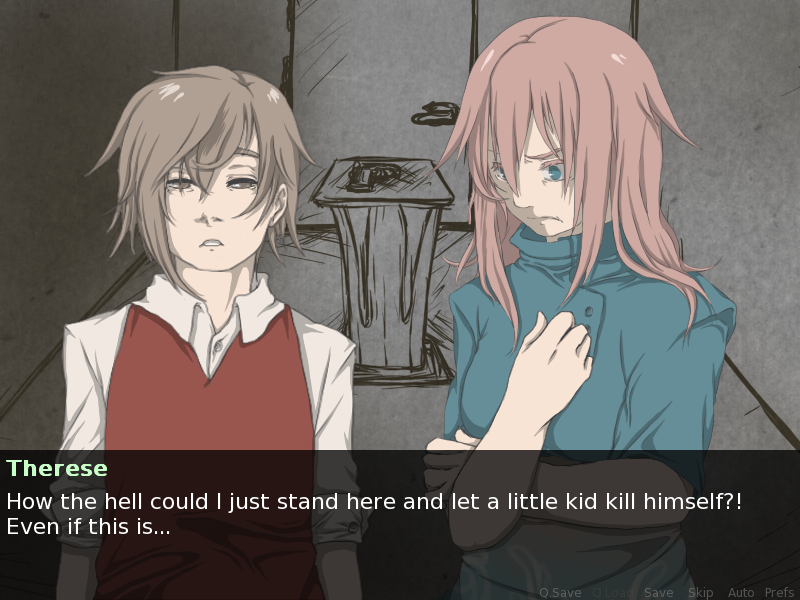 Eldin tries to be a big hero and offers to shoot himself. Therese starts whining about how she's the adult and therefore has to take responsibility for the actions of this kid she has apparently never met before.




She proceeds to use MYSTERIOUS SIBLING X for the sake of emotional blackmail. So that, y'know, she can shoot Eldin rather than Eldin shooting himself.


I'm sorry...thank you.


Thank me once we wake up.




Sooner than you'd think, in fact!




"But the second I actually pulled the trigger...it's like I shattered that resolve along with his tiny body."




Sure enough, this brings us back to the events we saw in the opening - Therese looking over Eldin's dead body.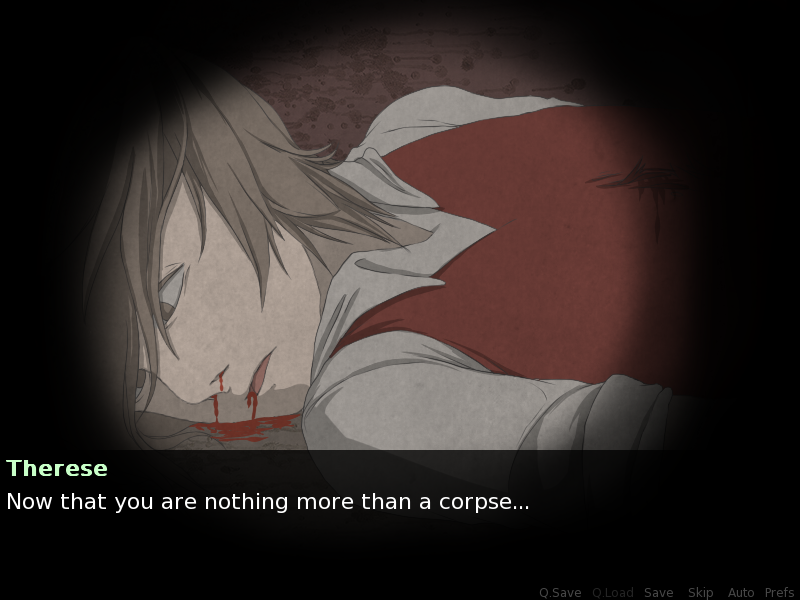 SHOT THROUGH THE HEART

AND I'M TO BLAME, DARLING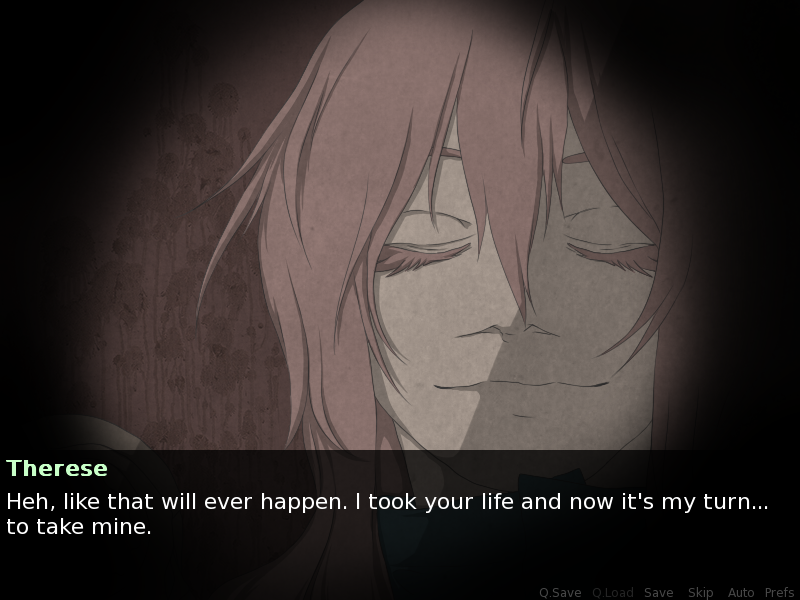 I GIVE LOOOOVE A BAD NAME




We cut back to the Mystery Voice That Is Definitely Not Therese.

"...Is to set the pieces into place."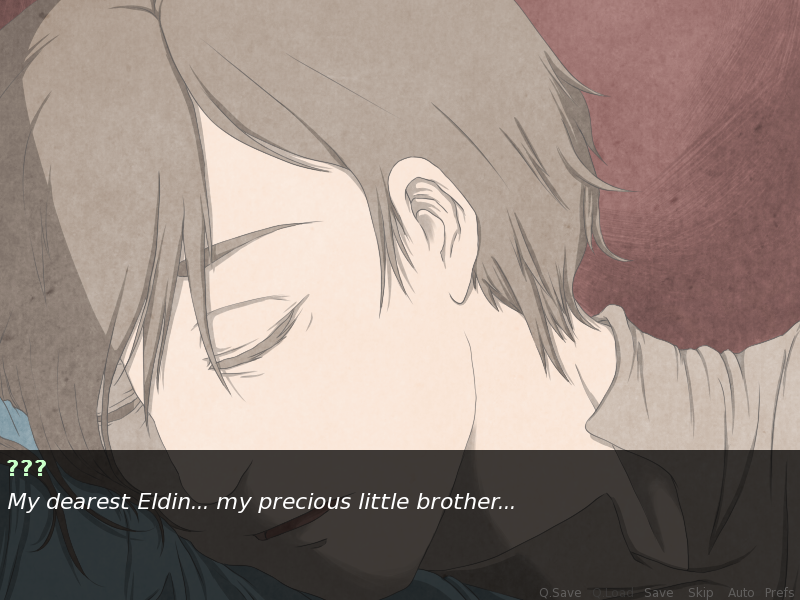 "This is all I can do for you...I'm sorry I'm such a failure. I can save you like this...but I can't give you a proper life..."




Pretty sure 'longer' is the word you want there.

"You haven't even had a chance to experience the tiniest fraction of this world..."




"Maybe then...I could have saved you...instead of just...preserving you. But if it will keep you alive, I will do whatever it takes."




...wait what




OK HOLD UP

HOLD THE FUCK UP

So Therese ISN'T Eldin's sister? Then why the pointless dodging of the question? Why set it up as a red herring? Why would you put a plot point there and then not make anything of it? And if Therese and Eldin are unrelated, why the hell did she have a heart attack whenever he said anything sad?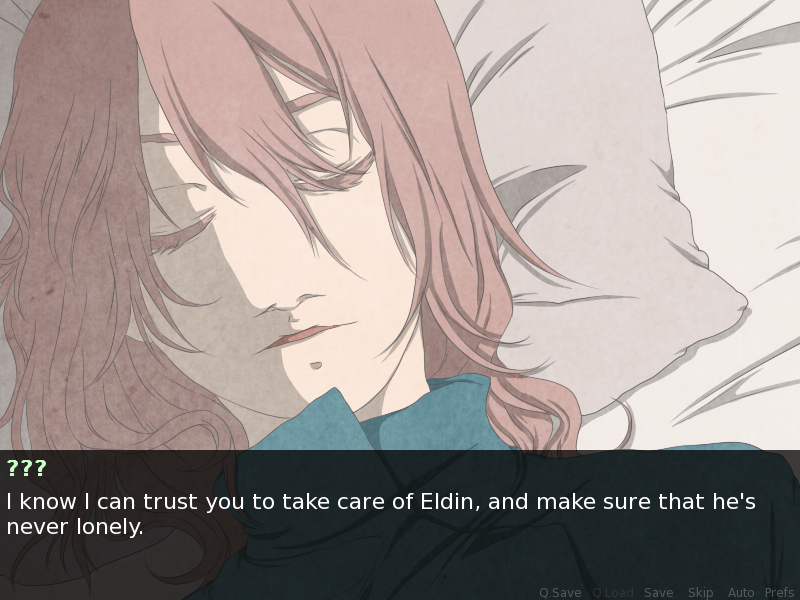 Guess what? None of these questions are answered. It's a twist for the sake of being a twist.

"If only I could be the one by your side...but I can't trust anyone else to do what I must..."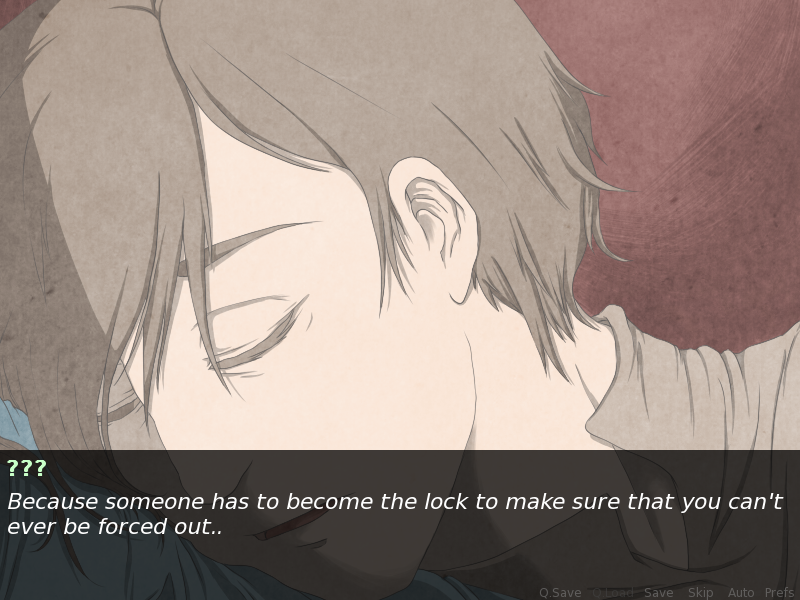 So as it turns out, the malfunction of the dream system was entirely intentional. As long as the dream never ends, Eldin will essentially live forever.

Except, y'know, his entire life will be an endless cycle of getting shot, impaled, leaping from tall buildings, and generally being utterly horrified.




"If you're okay...that'll be more than enough for me."




"And be happy."

OK, so this Du person is extremely fucked up. Apparently they've decided that it's better for Eldin to get murdered every fifteen minutes in a variety of gruesome ways rather than actually die.

So I'm mad that Therese's entire character arc now makes no sense, but at least we have a clue what's going on now. Maybe now we're going to get a heroic story of Eldin breaking out of the dream and demanding the right to live and die on his own terms, and Du gets all their stupid shit called out for-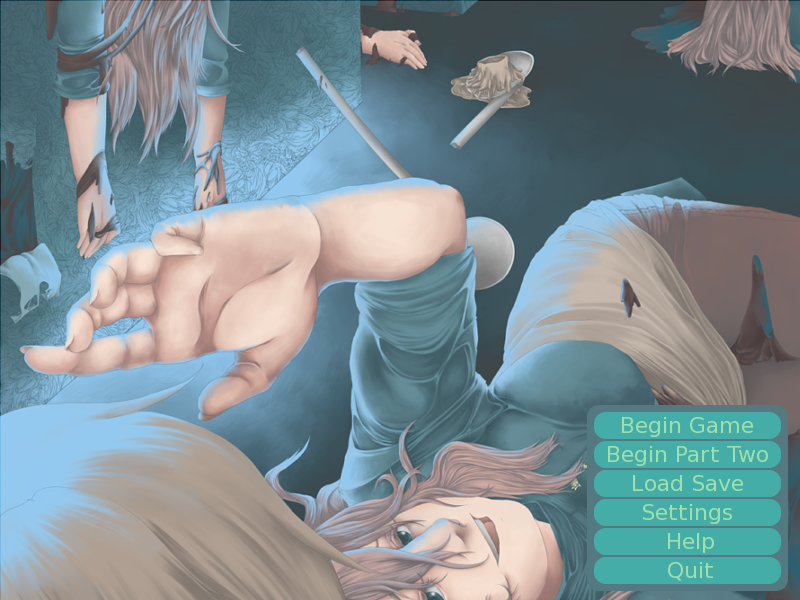 what

that's it

THAT'S THE ENDING?!

-----

I checked, by the way. I played through both parts a second time to make sure I hadn't missed anything. I looked through the game files to try and figure out if there was some other aspect of the game I'd somehow missed.

I didn't find anything. But you know what I did find?





I found four folders full of .au files.

.au files, for those unaware, are used by the audio software Audacity. They're what happens when you 'save' a project, and they're useless for anything except use in Audacity. Obviously this is how the developer made the music and sound effects of the game, and they never bothered to remove the Audacity files from the game folder.

Said files take up roughly 74 megabytes of space. The entire game download is 167 megabytes.

ALMOST HALF OF THE GAME'S DOWNLOAD IS NOTHING BUT USELESS AUDIO DATA.





And yet I can't think of a better way to describe the utter ineptitude that this entire game runs on.

Two Steps Back is not a bad game in the usual manner I cover. Usually I play games that have horrible writing, or awkward sexist undertone, or things like that. But they usually have some redeeming feature, like at least looking good or being complex enough to hold my interest.

Two Steps Back is a game that somehow manages to do absolutely everything wrong.

The graphics are mediocre. Backgrounds are literally unfinished. The character art is unpleasant at best and outright creepy at worst. The music gets old within five minutes. The grammar and spelling is horrendous throughout the entirety of the script. The plot is nonsensical and stupid and seems built entirely to stupify. Nothing is explained. Nothing makes sense. There is no payoff. There is no tension. Hilarious contrivances just so happen to occur and no-one brings it up. Obvious plot twists are swerved around and promptly crash into a nearby wall. The UI is literally straight-from-the-box Ren'py with no alteration. And this is all on top of basic programming ineptitude such as Steam not being able to run it or half the download size being nothing but useless garbage.




What utterly blows my mind is that this game was in 'development' for well over a year. Apparently it's been lingering on Steam Greenlight for a long time now, because its Greenlight campaign was running was back in September 2014. That's the time that a review of the game was released on the site Cliqist, with writer Marcus Estrada praising the game for its 'intriguing style of exposition' and its 'immediately likable' characters.

Maybe Marcus Estrada is from the same BIZARRO WORLD this game takes place in, because I have no idea what the hell he's talking about.

I'm Roukanken. Thanks for reading. Join me next time I waste my hard-earned cash on garbage like this.